1
« on: October 13, 2020, 06:58:31 AM »
[Tool] Character Designer v1.0.0
A nice little tool that allows you to combine and layer different apparel for custom pc-male and pc-female sprite sheets.
Created by myself and
@Krutzelpuntz
who provided some amazing 8 direction sprites for this project, as well as testing for bugs and providing great feedback. Major props to him for his amazing work.
Menu: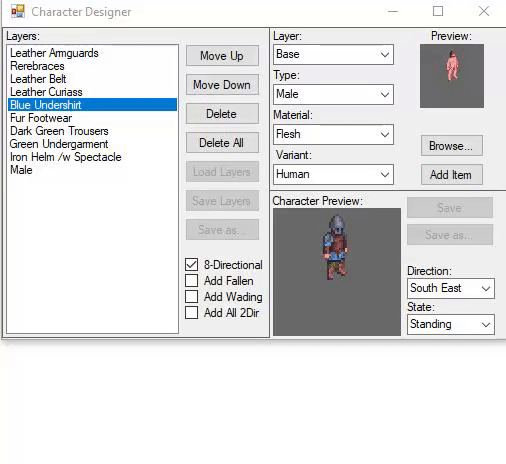 Instructions:
Using the tool:


By default, there are a variety of apparel items included in the tool for use, to begin start with a "Base" as your first layer. This layer represents your characters body, and should always be on the bottom of the list.

Each layer type will contain apparel that you'll find on that particular layer:

When you're finished selecting what you'd like to add, click the add item button and it will add it to the list of layers on the left, where you can then move it on-top of or below other layers of apparel.



The sprite sheet itself is

automatically saved

to the tools running directory as "TempSpriteSheet.png", you will need to rename this to "pc-male.png" or "pc-female.png" (depending on your characters gender), and then overwrite the original file in your UnRealWorld\truetile folder with the file generated by the program.

A couple of additional notes on check box options:


8-Directional

: Designates weather or not to generate the sprite sheet as 8-directions or 2. 8-Directional assets automatically generate 2-directional ones when this in unchecked. (meaning you can still use 8-directional sprites in 2-direction characters)

Add Fallen

: Automatically generates the fallen pose for the sprite sheet.

Add Wading

: Automatically generates the wading deep and shallow pose for the sprite sheet.

Add All 2Dir

: Automatically generates a 2-directional sprite sheet from single 64x64 images (Not yet functional, fairly easy to add just lazy).



Adding new apparel to the tool:
Adding new items for the tool to use requires only a small bit of configuration once you have the sprite you'd like to include. To begin, start by moving your new item to the "Sprites" folder, located in the tool's folder/directory. If you'd like, rename the file to something easier to organize amongst the rest of the sprites, otherwise continue on to the next step by opening Config.txt located in the tool's folder/directory.
In the configuration file, you can scroll down to the section labeled [Sprites] (or just use cntl+F), where you'll be able to see the configuration data for the default sprites already included, to add your new sprite, simply label it in a similar fashion for example:



My_Chestarmor_Blue.png

=

(

Blue Scaled Armor

,

Chest

,

Scaled Armor

,

Iron

,

Blue

)

the format of this example being:



Filename.png

=

(

NameOfItem

,

Layer

,

Type

,

Material

,

Varient

)

The "Layer" parameter for configuration

must

be set to one of the following:

"Base", "Head", "Face", "Hands", "Arms", "Chest", "Waist", "Legs", "Feet", "Hair", "Beard"


When you have your file in the sprites folder, and the configuration setup properly, save the config file and start/restart the tool and your sprite should now be loaded and ready to use.

Future goals:
Save/load features
Small fix's and improvements
Generation for NPC's, animals, possibly more.
Version History:
---
Please report any bugs to me via this thread, my PMs, or contact me directly on steam:
https://steamcommunity.com/id/Nightipoo/
Download attached to thread.
Credits:
Night - Creator/Programming.
Krutzelpuntz - Creator/8-Directional sprites, testing, constructive feedback.
Enormous Elk - Unreal world.
Requires Microsoft .NET Version 4.6 or later. (Usually already installed)
>Source for study<